Cambria Hotel Bettendorf - Quad Cities
A unique, upscale hotel experience has arrived in the Hawkeye State. The Cambria® Hotel Bettendorf - Quad Cities provides modern accommodations that are designed around the distinct needs of today's travelers. Each of our 112 guest rooms includes thoughtful indulgences like free WiFi, a dedicated workspace where you can focus at a desk with an ergonomic chair, as well as premium bedding and bath products.
Just a few steps from our hotel is the new TBK Bank Sports Complex and High 5 Lanes & Games featuring basketball and volleyball courts, a team training area, physical therapy facility, bowling and an arcade. Whether you're visiting the Quad Cities area to relax or get the job done, the Cambria Hotel has the accommodations and amenities that allow you to treat yourself to the little extras of traveling.
Amenities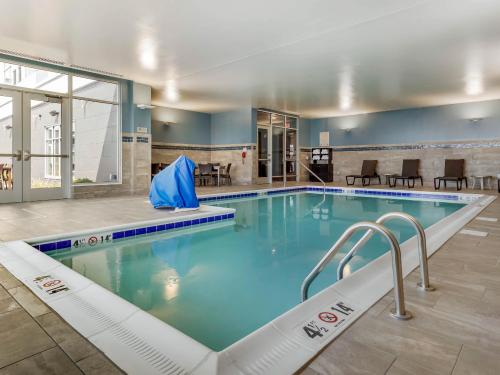 At Cambria® Hotels, we know you work and play hard, which is why we have the amenities that help get the most out of your stay. Free WiFi throughout the hotel and a professional business center are where we start, giving our business travelers the reliable service needed to stay connected to email, the internet and your most important remote networks. Free airport transportation gets you to and from Quad City International Airport in nearby Moline. The fitness center and indoor heated pool keep you going no matter how busy your travel schedule gets, while our upscale bar and bistro are where you can get your fill of locally inspired food, craft beers and cocktails. When you stay with us, you can enjoy the little indulgences that make a big difference.
Indoor heated pool
Free airport transportation
Fitness center
Upscale bistro and full-service bar
Business center
Meeting and event space
100% smoke-free hotel